AudioFuse 8Pre
                                                     DUAL MODE AUDIO INTERFACE
The Arturia AudioFuse 8Pre is a dual-mode interface and ADAT expander which boasts 8 channels of premium analog audio, rock-solid sync, USB-C, and optical connectivity. With our award-winning lineage of pristine analog quality, AudioFuse 8Pre is destined to become the expander of choice in studios and creative spaces around the world.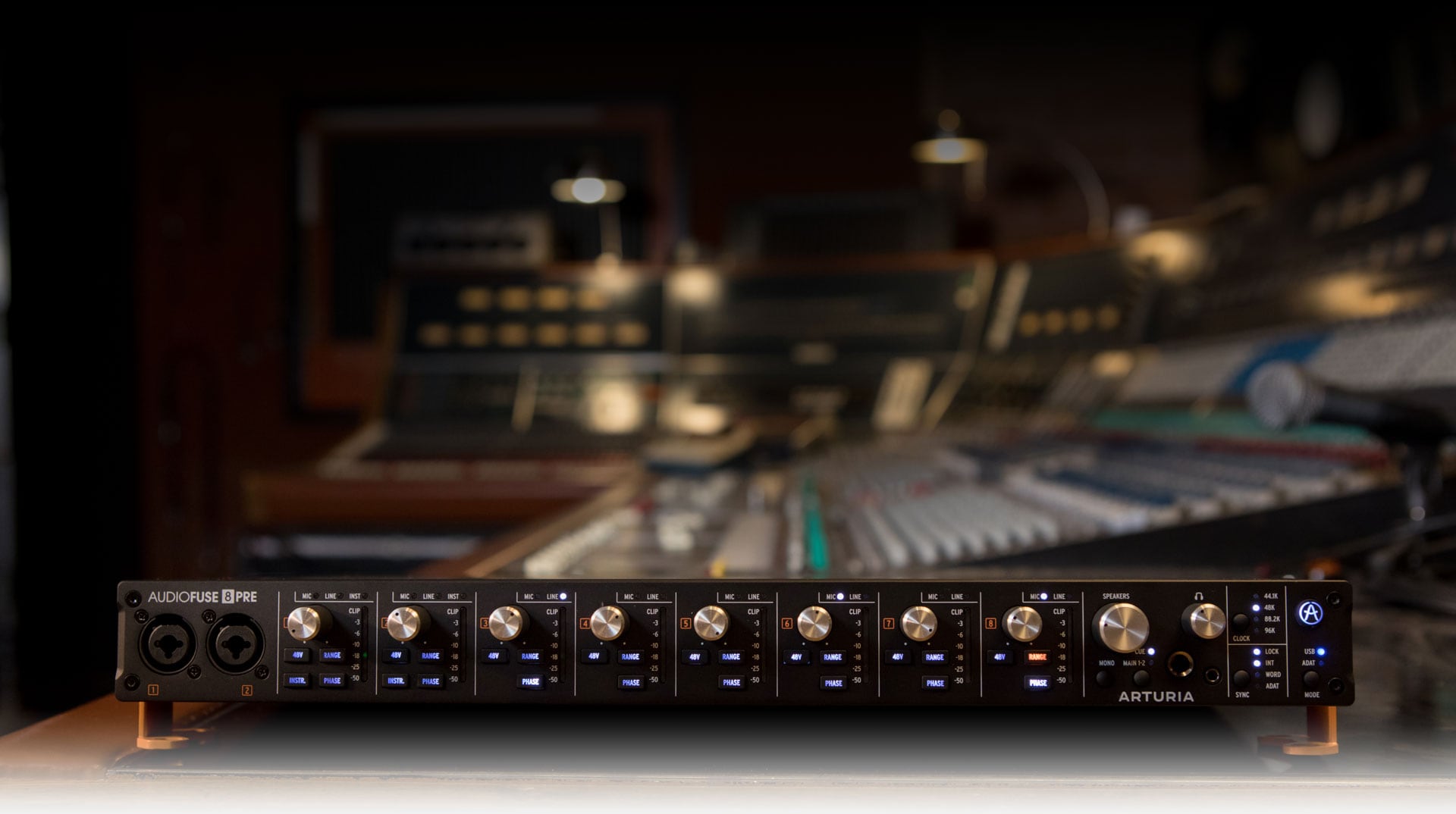 Equivalent Input Noise (EIN).  -129dBu*
AudioFuse 8Pre adds practically zero noise to your signal, so you can feel safe that you're hearing your music, not your interface.
Dynamic Range    119dB
Each preamp can record a huge range of sound, from "just there" softness to a huge rock concert, with absolutely no distortion.
■ AUDIO INTERFACE    ■ ADAT EXPANDER    ■ X8 MIC PRE       
■ X8 LINE OUTS     
■ x7 INCLUDED PLUGINS       
■ DESKTOP OR RACK
When you're putting your heart and soul into your music and productions, you need to know your audio is in safe hands.
AudioFuse 8Pre offers unrivalled quality at its price point. The 8 DiscretePRO© preamps and analog signal path will let you truly "hear" your audio for the first time. The super-low Equivalent Input Noise (EIN) lets you capture every subtle detail, while the huge input gain will drive even the most demanding low-output mics. All this with a totally flat frequency response for total transparency. The superb quality doesn't stop there, AudioFuse 8Pre also features the best A/D converters available.
Even if this unit was just 8 world-class preamps, it would be worth the money, but AudioFuse 8Pre gives you so much more.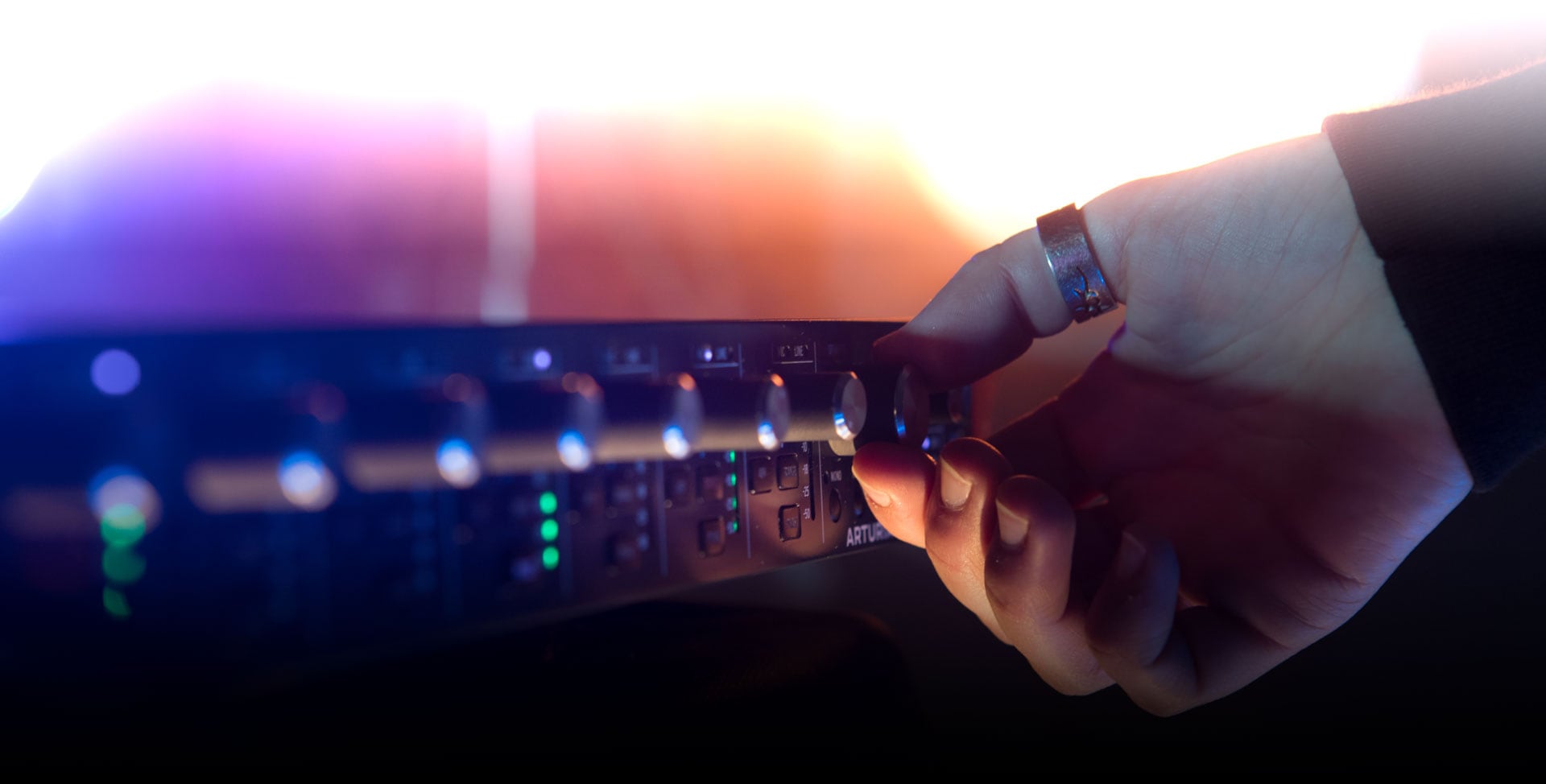 The best of both
If you're a recording professional you know that no two days are the same. You need gear that lets you be versatile, and prepared for the unexpected.
AudioFuse 8Pre can connect directly with your computer so you can record multi-tracked instruments all at once. It's a high-performance audio interface with USB connectivity, and independent speaker and headphone outputs.
You already have a powerful interface, but need more inputs? AudioFuse 8Pre is the perfect ADAT preamp expander. Supercharge your setup with 8 channels of solid gold, premium analog audio that will finally do your music justice.
AudioFuse 8Pre can fulfill any studio role. You already have a powerful interface, but need more inputs? AudioFuse 8Pre is the perfect ADAT preamp expander. Want to record multiple channels, but don't own an ADAT-expandable interface? AudioFuse 8Pre can connect directly with your computer so you can record multi-tracked instruments all at once. It's a high-performance audio interface with USB connectivity, speaker outputs and independent headphone output.
Use on its own; expand your existing interface; cascade 2 AudioFuse 8Pre together via ADAT for 16 superb preamps.
AudioFuse 8Pre does it all.
Smart design
Sometimes it's the little things that matter most. You need your gear to complement and enhance the way you work, and that's the driving force behind AudioFuse 8Pre.
AudioFuse 8Pre is easy to use, with one-button, one-function design, and features backward-compatible USB-C connectivity for super compatibility. It's housed in a robust metal chassis, and the included rack ears can be mounted to either face forward or down, letting it stand freely or be integrated into your 19" racks depending on your setup. It also features ADAT in, so you could send your musicians cue mixes using its headphone output.
We've spent years working together with studios, producers, and musicians at all levels to minimize the "pain points" other interfaces give you on a daily basis. AudioFuse 8Pre is the result.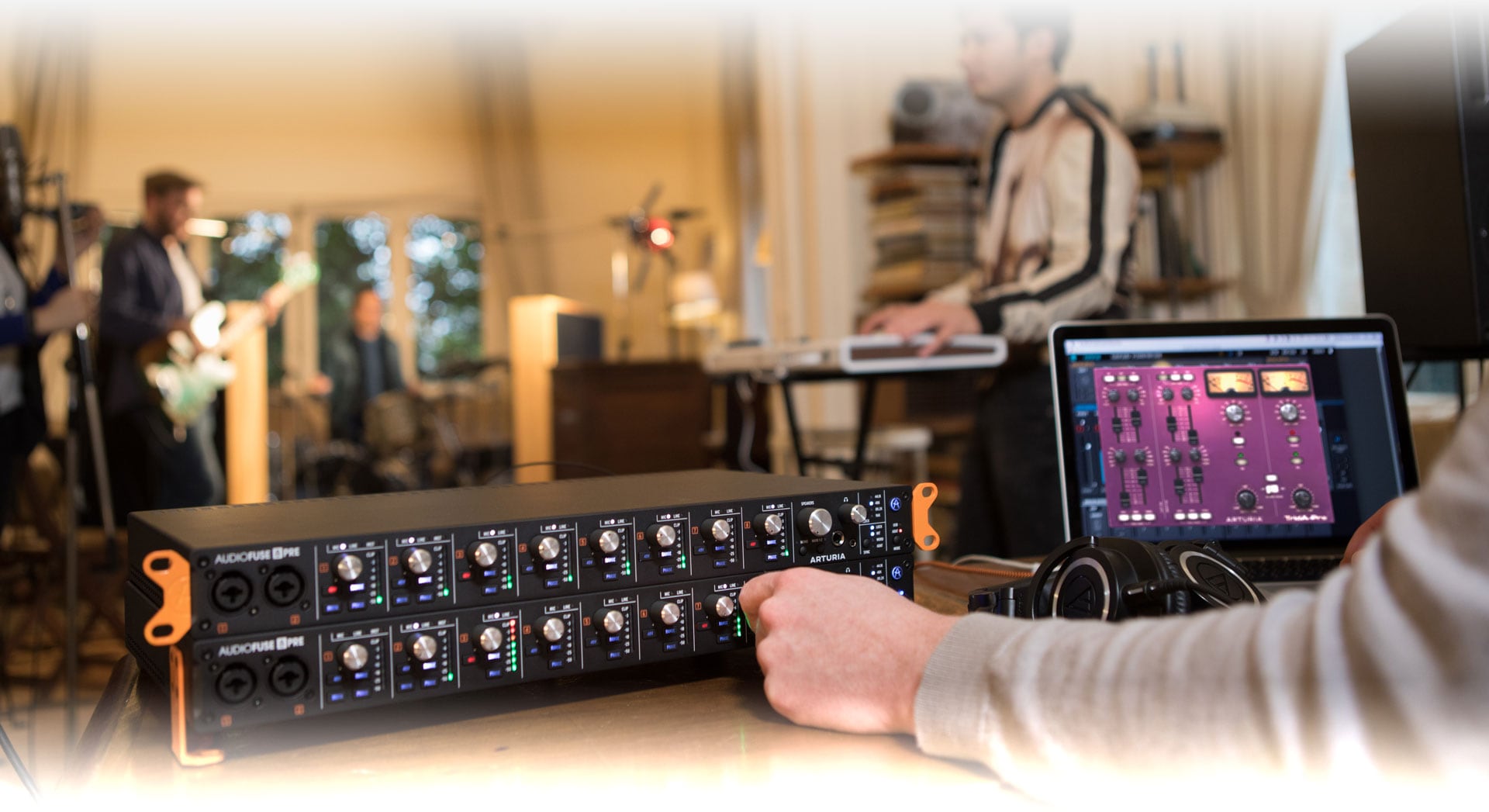 AudioFuse Creative Suite
AudioFuse 8Pre comes complete with the AudioFuse Creative Suite, an ever-evolving collection of software effects and instruments that will let you add your own unique signature to your music. Combining favorites from our award-winning "You'll Actually Use" series with Analog Lab Lite, AudioFuse 8Pre lets you also enjoy legendary signal processing effects and iconic synth sounds. Color the pristine inputs of AudioFuse 8Pre with stunning vintage effects!
The AudioFuse Creative Suite currently contains: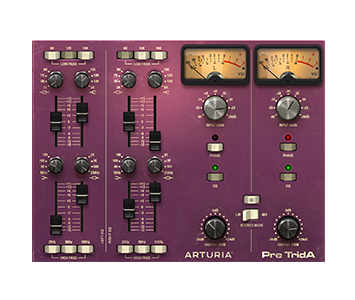 Pre TridA Music industry gold-dust. Get that ultra-rare Soho preamp sound and musical EQ that added flavor to countless best-selling hits for over half a century.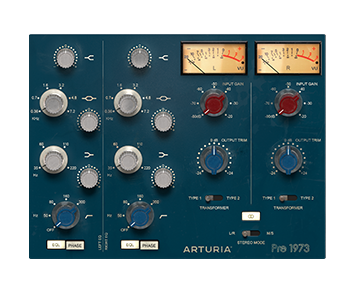 Pre 1973 Inspired by the hugely influential British studio sound, the Arturia Pre 1973 is the key to getting that harmonically exciting, solid-state 70s tone.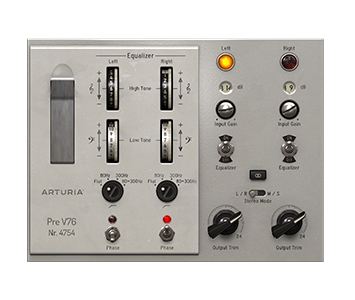 Pre V76 The key to getting that "White Album" sound, these reinvented German engineered, tube-driven broadcast preamps were beloved by Abbey Road.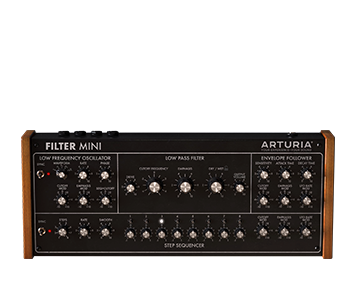 Filter Mini Dr Robert Moog's iconic, smooth ladder filter, accurately recreated and updated with an LFO, envelope follower, and a step sequencer.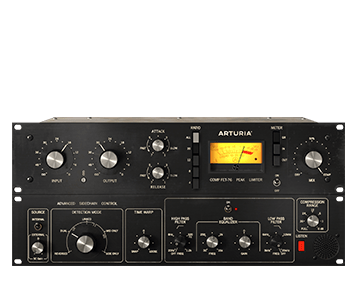 Comp FET-76Modelled after the most sought-after compressor ever made, the Class A FET sound our 1176 software recreation seems to make everything sound better.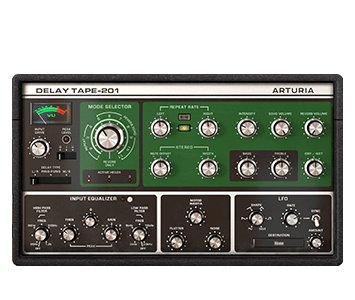 Delay TAPE-201The Arturia Delay TAPE-201 gives you everything you love about the sound of vintage hardware tape delays, but with the reliability and versatility of software.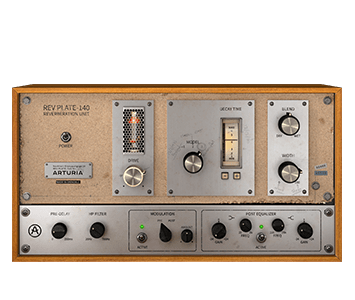 Rev PLATE-140The silky-smooth, resonant tone of vintage plate reverbs have shaped the sound of many iconic vocal performance, given the drums of best-selling tracks their air, and brought whole mixes together with bright, sweet overtones.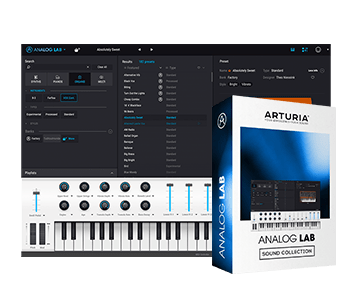 Analog Lab LiteA superb software instrument containing hundreds of amazing presets taken from Arturia's award-winning V Collection. Analog synths, pianos, organs, and more await.
AUDIOFUSE Range
The new studio reference
The AudioFuse interface range connects your computer to the world of music. Record with the highest quality, monitor with absolute precision, and bring all of your gear together to create the music you always wanted to.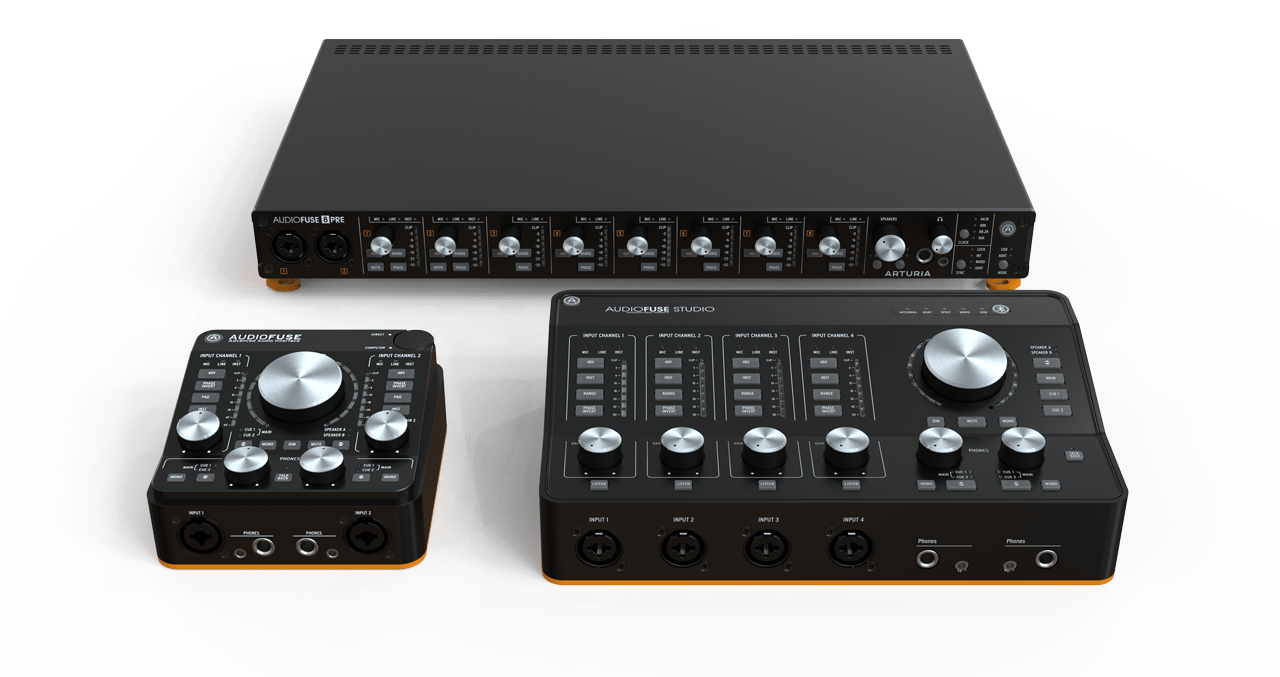 DiscretePRO preamps
The superb inputs of our interfaces give you the most vibrant, accurate sound around, with practically zero noise even at max gain, and enormous dynamic range. Be true to your music.
Analog signal path
The highest quality components are used in the input and output signal paths of the AudioFuse series, giving you an audiophile-quality experience with no compromise.
Powerful monitoring
Multiple outputs, integrated A/B switching, monitor mix options, and even headphone channels that have both small and large sockets. The AudioFuse makes monitoring a joy.
Huge versatility
Each AudioFuse interface has its own unique characteristics and skills to suit your needs: USB hubs, guitar reamping, vinyl preamp phono inputs for easy sampling, and effect inserts.
 
AUDIOFUSE
AUDIOFUSE 8Pre
AUDIOFUSE Studio
Microphone inputs
2
8
4
Line inputs
4
8
8
Line outputs
2
8
2 (DC coupled)
Monitor outputs
2 pairs
1 pair
2 pairs
Headphone
2x 6.25mm
2x 3.5mm
DC coupled
1x 6.25mm
1x 3.5mm
2x 6.25mm
2x 3.5mm
DC coupled
Reamping output
Yes
 
Yes
RIAA preamp
Yes
 
Yes
Talkback
Yes
 
Yes
"No latency" mixer
Yes
Yes
Yes
USB hub
3 x USB2
 
3 x USB2
Bluetooth receiver
 
 
Yes
MIDI I/O
Yes
 
Yes
Effect inserts
2
2
4
ADAT
8 in, 8 out up to 48khz
4 in, 4 out up to 96kHz
8 in, 8 out, up to 96kHz
8 in, 8 out up to 96khz
S/PDIF In, Out
Yes
 
Yes
Wordclock In, Out
Yes
Yes
Yes
Data connection
Micro USB2
USB-C
USB-C
Power modes
PSU, USB,
Powerbank
PSU
PSU
Platform specifications
: Win 7+ PC: 4 GB RAM; Intel i5 CPU or faster.
1GB free hard disk space
OpenGL 2.0 compatible GPU
: 10.8+: 4 GB RAM; Intel i5 CPU or faster.
1GB free hard disk space
OpenGL 2.0 compatible GPU
Box contents
AudioFuse 8Pre unit
Power supply
2x USB cable
DiscretePro® Achivement Certificate
Size & weight
Size : 17.3 x 10.2 x 1.8 inches (440 x 260 x 45mm)
Main Features
16 inputs, 20 outputs channels
8 microphone preamps with DiscretePRO® technology
2 instrument inputs on channel 1&2
2 analog balanced inserts on channel 1&2
2 channels (1&2) with front panel access for ease of instant connectivity
8 independent analog line outputs
Speaker analog outputs on balanced TRS Jack
1 stereo headphones outputs, on both 6.35 and 3.5mm TRS, designed for headphones up to 600 Ohms.
Monitoring section with individual level control for speakers and phones
Direct monitoring ultra-low latency internal mixer
8 digital ADAT inputs/outputs up to 96kHz
Word clock input, output/thru on BNC
DiscretePRO® Individual audio performance certificate delivered with each unit.
Comes with AudioFuse Creative Suite
24-bit latest generation AD/DA converters at up to 96kHz sampling rate.
USB-C interface compatible with PC & Mac, fully USB 2.0 compatible
Robust metal chassis in 1u single rack form factor