MicroFreak Vocoder Edition
FLUENT IN CHAOS
A 16-band vocoder with accessible real-time voicing controls. A detachable gooseneck microphone. A slick new aesthetic. MicroFreak Vocoder Edition takes unhinged hybrid carnage and cranks it up a notch – sing to the tune of pandemonium and lose control.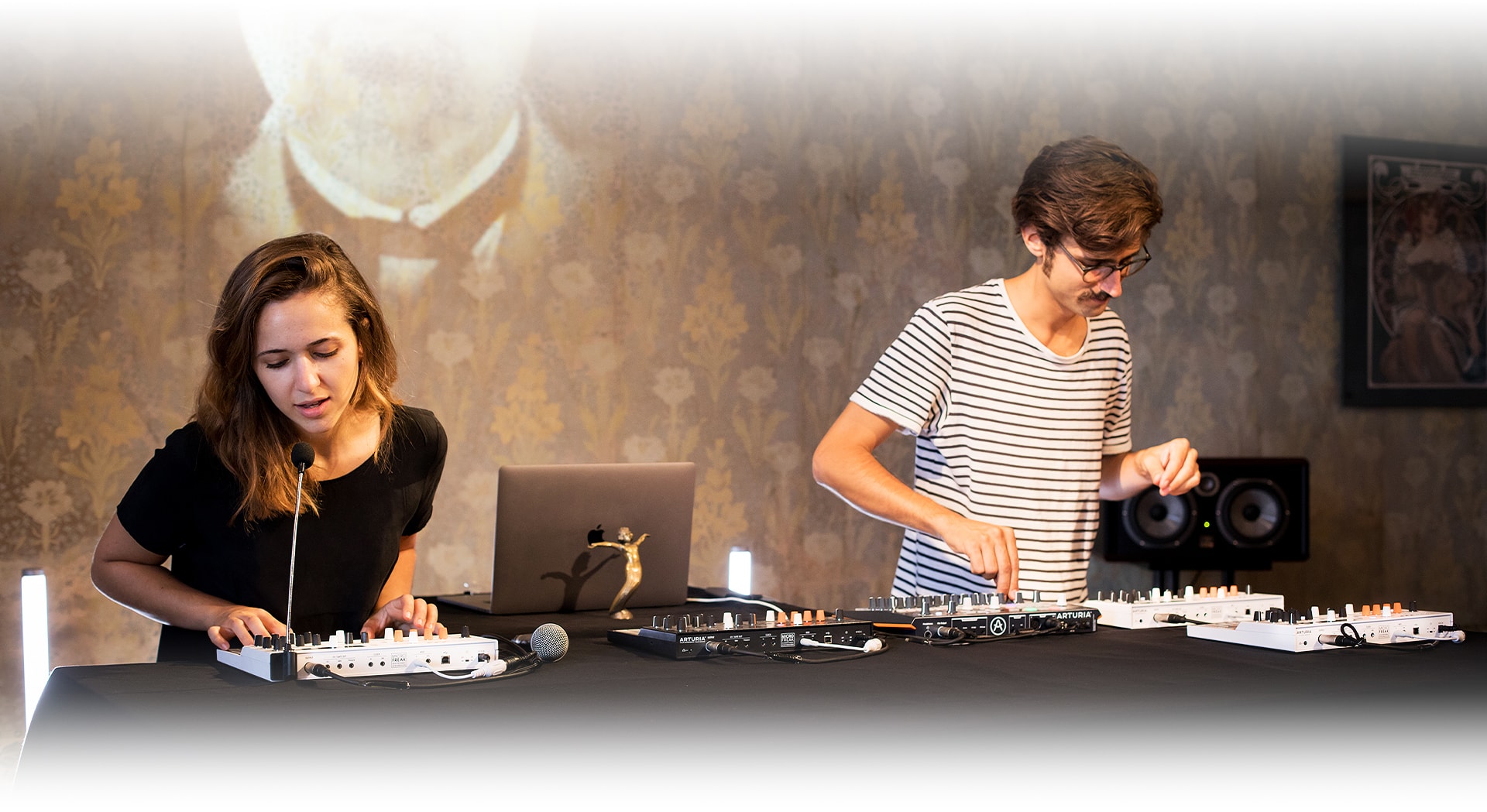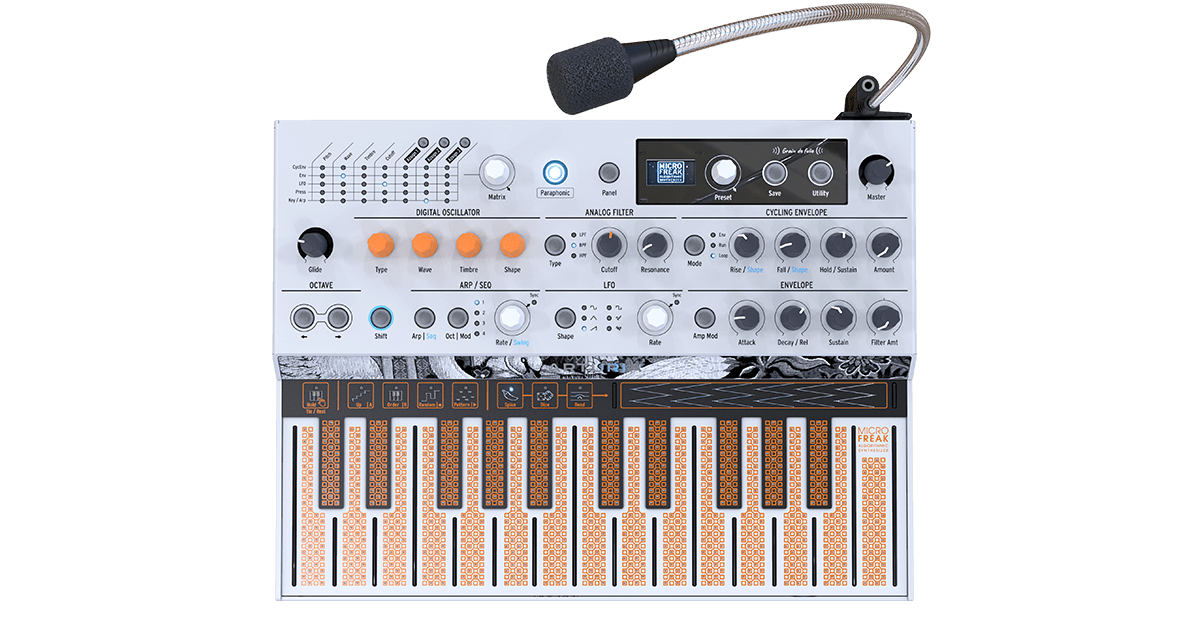 Limited edition, limitless madness
                                                        No ordinary Freak. No ordinary Vocoder. There's nothing ordinary about it.
Already Own a Freak? 
Update to unlock the Vocoder engine
Update your firmware to V2.1 to enjoy the new Vocoder feature, presets and TRRS connectivity. 
Step up to the mic
A simple, removable mic attachment that lets you sprinkle your voice into the mix.
A gooseneck design means quick position adjustment, with easy connection straight into the headphone socket. The fitting also allows you to connect headphones at the same time.
The utility menu lets you set your preferred mic gain and noise gate settings.
The human voice consists of complex, unique harmonics. A 16-band Vocoder design ensures that these harmonics are detected, filtered and replicated accurately.
Speak your mind and MicroFreak will respond in kind.
The Vocoder engine
We've created an entirely new mode to harness the Vocoder's 16-band power.
The Vocoder engine features 3 waveforms – sawtooth, pulse width and noise – while the Timbre and Shape knobs adjust the 16 frequency bands to twist and transform your voice.
MicroFreak Vocoder Edition goes beyond robot vocals. 16 new presets give you instant access to android translations, crystalline harmonies and vibrant formant sequences galore.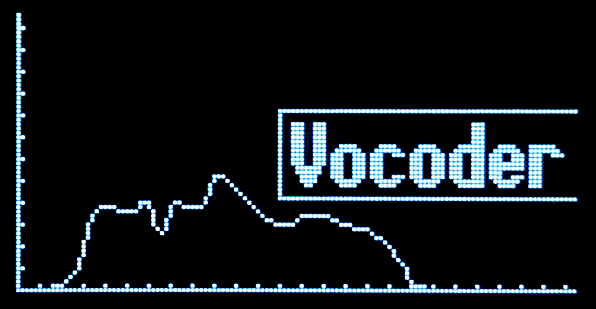 Connect an external sound source like a drum machine or synth via the headphone socket for glitchy sound processing.
First impressions make a difference. MicroFreak has always been out to make a statement, and the Vocoder Edition is no exception.
The control panel has been given a makeover. The center strip boasts a bold new Swan graphic, while a sleek white finish makes this limited edition Freak stand out from the crowd – as if it didn't already.

The Freak within
Behind the revamped appearance and microphone attachment is the same lovable maniac that set the synth world spinning.
Sparkling digital and wavetable oscillators collide with velvety analog filters. A unique poly-aftertouch PCB keyboard combines with a distinctly freaky arpeggiator & sequencer. Bathe your mix in sonic hysterics with the erratic mod matrix or the unique Spice & Dice randomizers. MicroFreak is out to break the rules. It's an unpredictable instrument for the adventurous. An adrenaline rush for the thrill-seeking musician. A mind-bending tool that dares you to stray from the path and think differently. Freak out.
MicroFreak Vocoder unit
Electret mic with gooseneck and headphone adapter
Power supply
Размер и Тегло
Instrument size : 12.2 x 9.2 x 2.2 inches (311 x 233 x 55mm)
Instrument weight : 2.3 lbs. (1.02 Kg)
Основни Функции
Synthesizer with 256 preset slots and 224 factory presets
14 Digital oscillator with variable mode, including Mutable Instruments Plaits engines and new Vocoder mode
Analog State Variable Filter, 12dB/octave, resonant, Low Pass, Band Pass, High Pass
ADSR envelope
Cycling Envelope offering two modes
LFO with Sync: Sine, Tri, Saw, Square, Random, Slew Random
Modulation matrix with 5 sources and 7 destinations (3 custom destinations)
Monophonic or Paraphonic modes – Up to 4 voices
Chord mode lets you program a chord shape and play it on any note
Scale Quantize lets you set a specific scale for the white notes to simplify the creative process
25-key capacitive keybed with polyphonic aftertouch
Capacitive touch strip
Crisp OLED display for editing and parameter values
Powerful arpeggiator

Up, Order, Random, Pattern modes
Spice & Dice Gate randomizers

64-step sequencer

2 patterns per preset
4 automation tracks per preset

CV / Gate / Mod outputs
USB, Clock and MIDI in and out
6.35mm master and 3.5mm headphone output